My recordings are currently available on Bandcamp through my Teahouse Records label. You are invited to explore my recordings for free on this page and discovery what appeals to you. All my music is available on other streaming platforms if you prefer to purchase or download elsewhere. If you are searching for any of the recordings as a CD you can search a music outlet, or contact me directly on the contact page of this website.
Just click on the track, listen, and if you want to purchase it, click buy and you will be linked to the secure Bandcamp site where the music is sold. Most tracks are $1.00 US dollars each, unless you are purchasing in Euros, or buying the complete album. The Bandcamp pages provide liner notes, production details, and the opportunity to send me a message when you subscribe or purchase. You will be able to easily link back and forth between the two websites.
Each album has a different flavor and focus. Unless you are already familiar with my music you are advised that none of my albums are the same style. I am an independent multi-genre musician and I do not limit myself to just one style. My violin and I travel many roads of the imagination and channel multiple musical voices. The albums below feature my original folk, bluegrass, Celtic, jazz, ambient, country rock, and world-influenced music.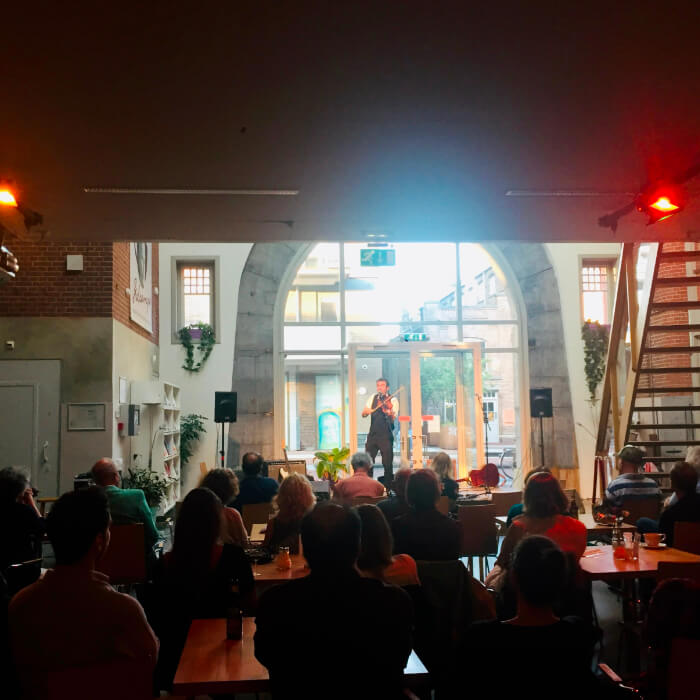 SEVEN CROWS: SECRETS OF NAVIGATION
"My ambient music is an invitation. A sonic seduction to be in the moment with me. It's not background music. I put the story in the soul of my layered sounds. I'm taking you on a journey, but I'm not telling you where I'm going." – Chris Murphy, composer and violinist on the album
"The production aesthetic of this release is perfectly balanced and contemporary. Stunning."
- The Bandcamp Diaries
"Secrets of Navigation is a unique compositional journey that takes us to places previously unvisited."   - Songlines
"Flushed with atmospheric ambience in these shimmering sonic interludes leave an impressive and empathetic impression that relies not on words, but rather on a steady flow of everchanging tones and textures."  – Goldmine
"An electric wonderland full of different moods and soundscapes…Maybe it's time to take our eyes off our screens and let our ears help us re-engage our imaginations."
- Skope Magazine
"This album will sure rejuvenate the magic of elegant classical setup which the new generations have almost forgotten."
~Skope Mag, 2017
"Combining his virtuoso violin skills with earnest poetic lyricism, Chris is able to weave some seriously interesting sonic textures that are uncommonly rare in today's music cosmos."
~The Band Camp Diaries, 2017
"Music of talent and expression"
~My Funk, 2017
"Sung straight from the soul, 'Hard Bargain' is downright addictive"
~Beach Sloth Reviews, 2017
"The music is addictive, charismatic, cmmunicative and fun"
~Dave Franklin, Dancing About Architecture, 2017
"A unique, very enjoyable sonic experience!"
~Joshua Smotherman, Middle Tennessee Music, 2017
"It's one that makes you want to mark all the details of the lyrics, and dance to the tune of every note. 10/10 rated music!"
~Amy Lawrence, Skope Magazine, 2017
"Chris Murphy's violin-driven music has a unique freshness about it that makes for an incredible and pretty special listening experience."
~Rebecca Cullen, Stereo Stickman, 2017
"Cinematic sweep embodied in musical form! 9/10 stars!"
~Jason Hillenburg, Skope Magazine 2017
"The Tinker's Dream is a musical work of high artistry!"
~Lance Wright, Indiemunity 2017
"This is [Murphy's] finest release to date!"
~Shannon Cowden, Gashouse Radio 2017
"There isn't a single song on The Tinker's Dream that lacked the rich, organic instrumentation that hits you right in your soul when you hear it!"
~Matt Turner, No More Division 2017
"The Tinker's Dream is a first-class release in every respect!"
~Lydia Hillenburg, Vents Magazine 2017
"A fantastic interpretation of Irish folk!"
~Dani Heyvaert, Rootstime 2017
"This is quintessential world music– brisk, clear, and vibrant! A true piece of art!"
~The Ark of Music 2017
"A songwriting and instrumental extravaganza! 9/10 stars!"
~Charles Hatton, Indie Music Reviews 2017
"One of the most respected instrumental talents in any genre currently working in the modern music scene!"
~David Shouse, Band Blurb 2017
Chris Murphy & The Devil's Box
'Red Mountain Blues'
"Distilling the essence of Bill Monroe, Flatt & Scruggs, and Bob Wills into a heady spirit of moaning fiddle, burbling banjo, dandelion mandolins and high-lonesome harmonies, the songs on Chris Murphy's Red Mountain Blues move and morph like a moonshine dream.
Surely, fans of the Nitty Gritty Dirt Band, Ry Cooder, David Grisman, and The Band will find a certain redemption in Murphy's tin-type Americana, a cinematic blend of bluegrass, country and folk aesthetics that sits comfortably alongside new-generation folkies like Mumford & Sons and The Lumineers, but suggests a much older vintage, and a far deeper pedigree."
~James Rotondi, Brooklyn, NY
"The latest release from respected violinist and New York City native Chris Murphy, Red Mountain Blues, is yet another milestone in a career stretching back a number of years and featuring a number of largely unheralded gems that outstrip the work of much more visible contemporaries. These are fully realized slices of Americana goodness propelled by little more than a consistent triple punch of violin, guitar, and banjo augmented by occasional strains of mandolin. 9/10"
~David Shouse, Gashouseradio.com
"It is an immaculately produced affair that highlights the individual elements present in Murphy's compositions with a generous and attentive ear…Track after track, Murphy shows why he is one of the best songwriters in popular music and unjustly flying under the mainstream radar…9 out of 10 stars."
~Cyrus Rhodes, No Depression
"This is a deeply rewarding work that will appeal to a cross section of listeners. The melodies give each of the album's fourteen songs instant accessibility without ever sounding too samey and the lyrical content has a wide vision rather than confining itself to rehashing tired tropes from the genre. 9 out of 10 stars."
~Lance Wright, Indie Artist Alliance
Chris Murphy 'Surface to Air'
Songs of lost souls and forgotten outposts, prison songs, murder ballads, bawdy tales, hillbilly heartbreak, and tales of lost love and forgotten dreams. Set against a backdrop of his own stirring violin and the kind of earthy, urgent acoustic accompaniment that has driven bands from the Old Crow Medicine Show to the Waterboys, Chris Murphy's "Surface to Air" finds the Los Angeles fiddle master foraging for lyric themes in the underbelly of the folk-rock tradition, turning up gems of Dylanesque guile, Tom Waits-approved gothic cabaret, and the kind of emblematic story-songs that have sustained songwriters from Neil Young to Richard Thompson.
While the lively, danger-scented arrangements of "The Hunter & the Fox" and "Elmira Prison Camp" may echo Thompson's British Isles balladry more than Young's rustic folk, Murphy—with a plain-spoken lead vocal sound that suggests David Grey or Ben Folds—knows his way around Americana as well as he does the lilting echoes of his own Bronx Irish upbringing. Indeed, he's shrewd enough to include hints of the Velvet Underground, The Waterboys, and Dylan's "Desolation Row" in his American pastiche here, delivering a potent mixture of vocal tunes and instrumentals—featuring players who've worked with Daniel Lanois, X, John Cale, and Lindsey Buckingham—that suggest that rambling souls are just as likely to spin their weathered tales in LA as they are in Dixie.

James Rotondi, Brooklyn, NY
"9/10 Stars…Arch-traditional folk, jazzy strains, and blues find their way into his songs often and to excellent effect…. This is music with many beating hearts and their pulse is loud."
~Cyrus Rhodes, No Depression
"9/10 stars, this is an extraordinary expansive album invoking a handful of wildly varied musical voices and an example of pure songwriting technique… Murphy's violin slices through the mix for extended and highly melodic fills… Surface to Air is a 14 song collection that will impress long time fans and win over new converts by the score…"
~Jason Hillenburg, Skope Magazine
"9/10 stars Surface to Air is a deep collection of songs and instrumentals that plays coherently from first song to last and never lapses into self-indulgence… deserves repeated listening… exquisitely written and moves with smooth control."
~Aaron Ellis, Indie Artist Alliance
Chris Murphy 'Seven Crows'
SEVEN CROWS is a mystical, brooding, romantic, sensual violin journey, recorded with only his electric violin, a looping machine and some cheap guitar pedals, Seven Crows is rich with layered violin fantasies, swirly bowed dreams, osinato plucked recipes and Chris' lush garage rock string orchestration mining the emotional terrain of love, life and adventure. A fascinating 13 song album beautifully recorded and mixed by Colin Studybaker (Iron & Wine, Califone) and Erik Colvin, and produced by Kristian Dunn (Soft Lights, El Ten Eleven).
Murphy's ensemble record, LUMINOUS, features collaborations with John Doe & D.J. Bonebrake from X, Victoria Williams,Tim Rutelli from Califone, Larry Taylor & Steven Hodges from Tom Waits band, Nathan Larson, Nels Cline from Wilco.
"Electric violinist Murphy said he wanted to do a really 'L.A.' record, and he totally overachieved." ~Nels Cline
Chris Murphy 'Broken Wheel'
Mississippi Mud meets sweaty Chicago in an all-night juke joint
jumping with despair, distortion and jesus.
"His electric violin sounds like a captivating combination of harmonica and slide guitar… fans of good music in general, will enjoy giving this disc a spin." -Bluenight
10 Bowfire, heart-pumping bluegrass, celtic, bayou, drinks for everyone – you're-gonna-get-hurt fiddle tunes.
"He rips through his fiddle with such energetic sounds capable of giving any square dancer a heart attack on the dance floor and then reviving them long enough to twirl around for more." -Jason Terrill, Folkwax
A documentation of Chris' solo violin show, NOIR includes his innovative and original use of loops and electronics. NOIR spans the globe stylistically, from classical, to folk, to ambient soundscapes.
"Noir features Murphy unaccompanied… exotic and international… without ever falling into pretension or tedium. Pretty cool." -Michael Toland, High Bias
Chris Murphy 'Salton Songs'
Moody, expansive, techno, electronic, trance, world music, violin loneliness, and love songs.
"Violinist Chris Murphy has been honing his diverse instrumental composition skills for over fifteen years, and his experience certainly plays into the success of Salton Songs." -Brad Miller, Urb.net
Chris Murphy 'On A Blue Afternoon'
Chris' jazz & swing concept album, ON A BLUE AFTERNOON, pays tribute to Chet Baker, Stephan Grappelli, Jean-Luc Ponty, Stuff Smith and Billie Holiday.
"…the essence of what quality sounding jazz music should be about. Without a doubt, the recording is worth every note of conveyance." -Sheldon T. Nunn, Jazz Review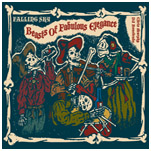 Beasts of Fabulous Elegance 'Falling Sky'
A violin/drums duo project with punk rock legend D.J. Bonebrake.
"Like lightning cracking down from the clouds, Chris Murphy's knife-edged electric violin sends bolts of distorted melody into the scorched, earthy drumwork of X's DJ Bonebrake on this remarkable debut album, FALLING SKY. While music fans will find plenty to absorb them in this bare-knuckle four-string collection, it's no violin purist's cup of tea: instead, it's scrappy, guitar-like sonics and street-schooled rhythms that define this 12 song set. Two L.A. iconoclasts, Murphy and Bonebrake, create an alternating current of virtuosic, high-wire tension that breaks open new vistas in alternative instrumental music."
James Rotondi,
November 2006, NYC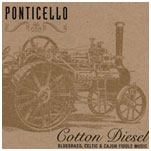 Ponticello "Cotton Diesel"
A raging, blasting, bleeding old time, would-you-like-to-dance, moonshine-meets-county-line celtic music session.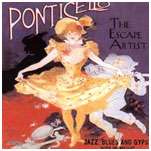 Ponticello "The Escape Artist"
THE ESCAPE ARTIST is jazz, swing, ragtime, gypsy, and klezmer music that takes you to an after-hours party. Imagine mingling with the likes of Malcolm X and Billy Holiday in a Harlem apartment at five o'clock in the morning. The year is 1943.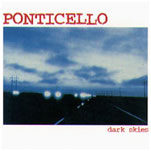 Dubbed a "lo-fi masterpiece," recorded by Chris Murphy on Ponticello's first tour in the Fall of 1999.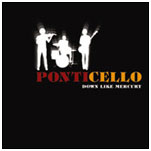 Ponticello "Down Like Mercury"
Ponticello's DOWN LIKE MERCURY was produced and recorded in Portland, Oregon by Gregg Williams (Sheryl Crow, The Dandy Warhols).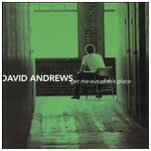 David Andrews "Get Me Out Of This Place"
Chris plays fiddle and mandolin on this Portland, Oregon singer-songwriter's album.